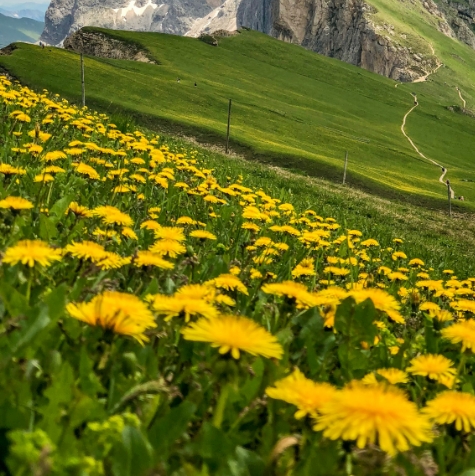 Post example
It gives me great pleasure to work with others on their journey, to come alongside and strengthen what is already and always fundamentally available to each and every one of us. I see my work and experience and life as opportunities to bring more freedom, expression and vitality into the world. I do this mainly through working with people who struggle with issues around food – over-eating, poor hunger cues, binge-eating, etc. My expertise is working with people who have struggled, or are curious, confused, frustrated, or simply worn out about how their eating and food choices have impacted their lives.
As a former clinical dietitian, I was trained in and for years knew of only one way to "lose weight", diet and exercise. Through my clinical experience, I was also faced with how this "scientific" and "dietary" information seemed insufficient, and also quite aggressive. I would be speaking with clients, and it felt as though I was offering them information, knowledge, but no understanding, no compassion and limited contextual information that would best support their needs and desired changes. The messages I kept hearing included:
Misaligned confidence: "Yes, I so want to make this change, and I'm worried I won't have time or the energy to keep it going…I'm afraid I'll just gain the weight back." (fear based change making behaviour)
Poor self-view: "I just want to look acceptable/beautiful/skinny, so that I will finally be able to do what I want." (waiting for external view of what is acceptable, what is lovable) (believing life is easier if I "fix" myself)
Misinformation: "I heard and read so much about this new diet or exercise routine and I really think it can help me" (a common misconception about what we read and what we think we need – or a disconnect from what our body really needs)
After years, countless efforts, much learning and finally understanding what is a "relationship with food" even means (this includes binge-eating, emotional eating, body-image issues, anti-feminist view of the diet industry, etc.) I finally understood how insufficient and helpless the "clinically accepted diet or weight-loss" methods are making individuals feel. So I went in search of different means of changing behaviours, understanding each individual person, bringing a more holistic view into the equation. This includes anything I could get my hands on, evidence-based practices, to complement and integrate my skills which were more aligned with the truth of what is truly needed in nutrition care:
Completing a 6-month course and practice in Intuitive Eating (TM): evidence-based practice of learning that there is so much more depth and understanding to emotional eating, to binge-eating, and any other eating patterns that are hard to understand and move through.

Over 200 hours of ongoing training in authentic dialogue/non-violent communication (NVC): a compassionate needs-based and mindbody connection way of being with oneself and others. Linking food patterns with needs, feelings, physical sensations, and connectedness as a whole.

Continuing research on self-compassion and trauma as it relates to hunger and eating behaviours.
Overall, I continue to get more and more excited about the work I get to do and the privilege I have of witnessing people's growth through self-awareness, compassion and deep understanding of who they are and what they need. A true honour.
The Author
Julia loves everything about humanity, and lives her life strongly connected to nature, to others and to herself. Her interests include pottery, reading, and gardening.